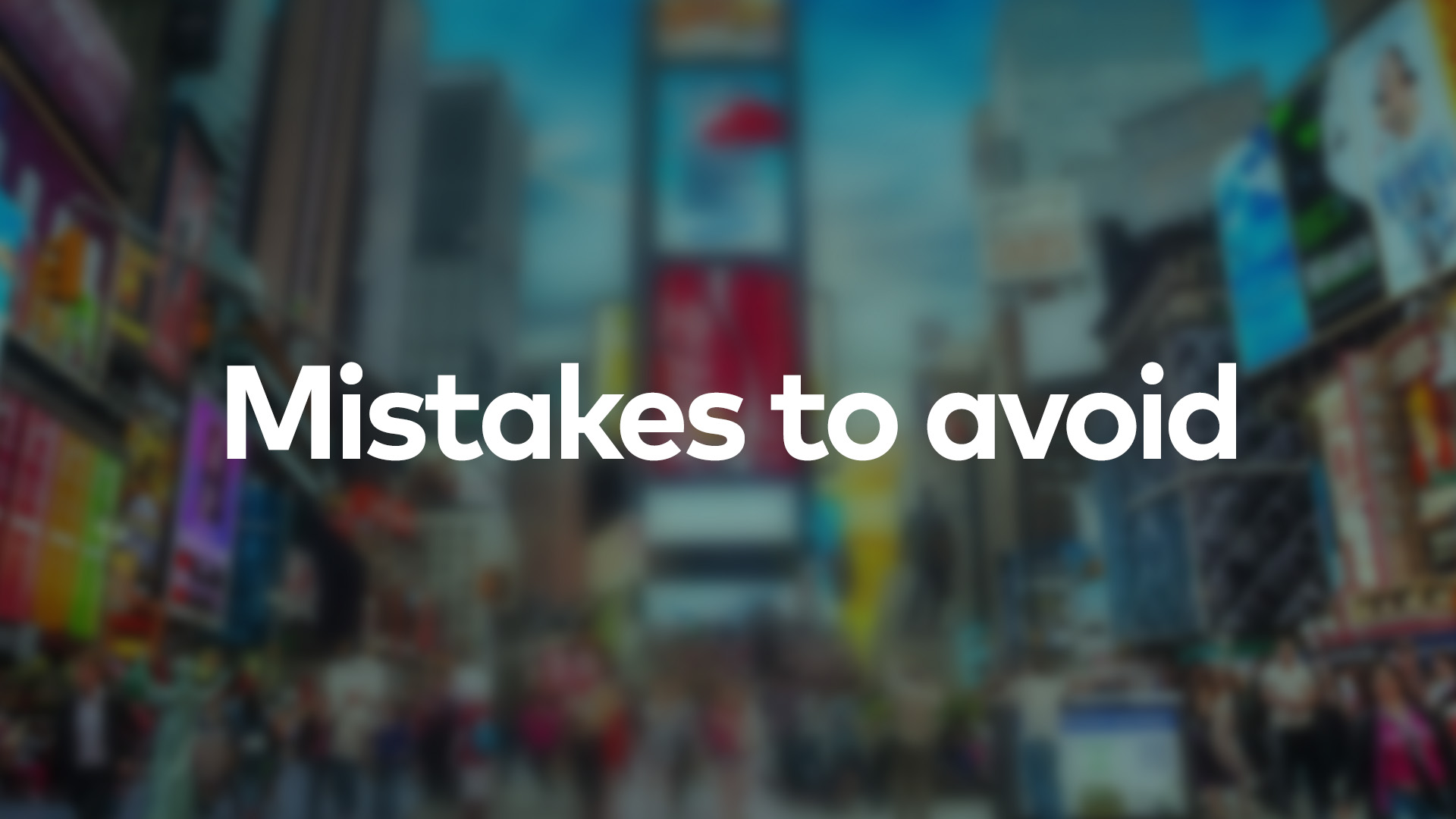 Top 5 Outdoor Advertising Mistakes and How to Avoid Them
Whether big or small businesses; Everyone is familiar with outdoor advertising like billboards as marketing and advertising techniques for a very long time now.
It is all because of its efficiency and wider audience reach that it has become a success story of its own in creating amazing brand awareness and informing customers.
Naturally, you must have seen a lot of billboards; each of them having an attractive design and advertising technique but lacking the intent or turning out to be misleading.
Just like any other medium of marketing strategy, outdoor advertising requires in-depth research and preparation. Failure to do so can and will result in unnecessary delays, flawed designs, and set-up, eventually defeating the idea and purpose of it all.
With this article, we intend to list down the ''Top 5 Outdoor Advertising Mistakes and How to Avoid Them''.
So, without any further delays, let us discuss those factors that should be avoided while creating your outdoor advertisement.
#1 Too Many Words!
Just because a billboard is large in size, it does not mean that you can stuff it up with words. This is one of the most common mistakes that many marketing and advertising agencies end up making.
In today's fast-paced life, no one has the time to go through every word that you have written.
A sharp, short and crunchy phrase can be more effective than long sentences for billboards.
Remember, people are on the road while you are trying to gather their attention. Technically, you only have a few seconds, so make it count.
Tip 1:
Use short but catchy phrases to reach higher success rates.
#2 Wrong Selection of Font and Colours
Another common mistake which most of the marketing agencies end up making is the selection of wrong fonts and colours.
Using the font type and size that you like rather than what works best for outdoor ads can result in a failed marketing campaign.
If a font looks good on paper does not necessarily mean it will look good on the billboard.
Likewise, choosing the wrong colour combinations which does not go well with the company guidelines and brand image can also hamper the message you want to convey to your target audience.
Tip 2:
Use clean and simple fonts that are easy to read and will transact message in the shortest time; and

Use the colours that provide the right amount of contrast against the backdrop.
#3 Missing Call to Action
Honestly speaking, we all at some point in our lives must have come across some really creative and eye-catching adverts but still, we felt that something was missing or what exactly was it trying to convey.
The missing piece was a proper call to action.
Many outdoor advertising campaigns miss out on important information like a website address or a phone number to give direction to the customers where to contact. Eventually losing conversion or customer engagement.
Tip 3:
In order to have a successful campaign never compromise on the call to action. It should be bold and clear.
#4 Irrelevant Imagery
Not everyone has the time to understand the creative message behind the ad.
So, there is always a possibility wherein the message is not being deciphered in a manner it was presumed to be.
It does not mean that you abandon all your creativity and be straightforward. Advertisements that use the right image with the right message end up always showing better engagement rates as compared to those that not. It means that it is successful in striking the right chord, resulting in emotional responses.
Tip 4:
Use attractive yet less complexed images along with your sharp and catchy phrase with emotional connect to create a successful campaign.
#5 DIY Advertising
If you are tight on funds but still want to have a billboard; 'Do it yourself' can never be a cost-effective solution, rather can result in the sheer waste of time and money.
It is a fact that outdoor ads require higher investments but when done correctly, can offer remarkable returns.
Businesses should take professional guidance from those who deal with branding and creating advertising strategies on a daily basis.
As the saying goes, 'A Penny Saved is a Penny Earned'.
With the right marketing agency, you can surely avoid these common mistakes, making your campaign more cost-effective with a higher return on investment.
Tip 5:
For higher return on investment, always take advice and guidance from professionals.
Are you ready to reach a larger audience?
Marketlink acquires a large number of the best outdoor spaces in premium locations.
We blend creative designs with our wealth of experience and believe in making it simple yet memorable.
Contact Marketlink today and create your own success story.